Showing testimonials from customers and clients is crucial for businesses. It helps you build trust and create social proof by sharing how your customers experienced your service. In case if you are still not utilizing the power of testimonials in your marketing efforts then you need to check following observations made by a recent customer survey,
98% of US adults found user-generated reviews helpful in their holiday shopping decisions.
90% of consumers worldwide trust earned media (like testimonials) above all other forms of advertising.
Google business listings with 3+ star reviews take 87% of customer clicks.
Divi's built in testimonial module has a large number of styling options. You can add a photo, include links to the author's website, and customize colors and text styles.
But even with these options, the module is limited and it does not include ratings. The Divi Testimonial module can help make your website look more professional. But it will not help you show reviews or customer ratings in Google search results. In technical terms Divi Testimonial Module doesn't generate Review Markup Schema that helps to stand out in search engines. Your pretty looking testimonials doesn't have any SEO value.
Give superpowers to Divi theme with the UDBA plugin
How to show testimonials in Google Search Results
When Google reads your pages, it looks for something called structured data. You may be familiar with the term schema. The structured data needs to be added to the code of the page where your review is.
Divi's Testimonial module is missing this data, and Google cannot show your testimonials as rich snippets.
To show reviews in the search results, the reviews also needs to be:
Reviews of single products or services.
Visible on your website.
Collected on your website.
Showing rich snippets correctly can be difficult. Instead of doing it manually, we will use a WordPress plugin.
Plugin alternatives to the Divi Testimonial module
Site Reviews is a free plugin that can be downloaded from the WordPress.org plugin directory. This is an advanced plugin and setting it up takes a bit of time. But it has the features you need to collect testimonials and show them on your website and in Google's search result.
The plugin does not have an easy way for you to add your own reviews via an admin interface. Instead, you collect reviews from visitors using a form.
Both the form and the reviews can be placed anywhere in your content with the help of Divi Code/Text modules and shortcodes.
The shortcodes can be copied from the plugin's Help menu.
To add a review submission form, use the shortcode ​[site_reviews_form]
To display all reviews, use the shortcode​ [site_reviews schema="true"]
The Site Reviews Help page has more examples of shortcodes that you can use to customize the result.
Paste the shortcode into a Divi Code/Text Module, and save: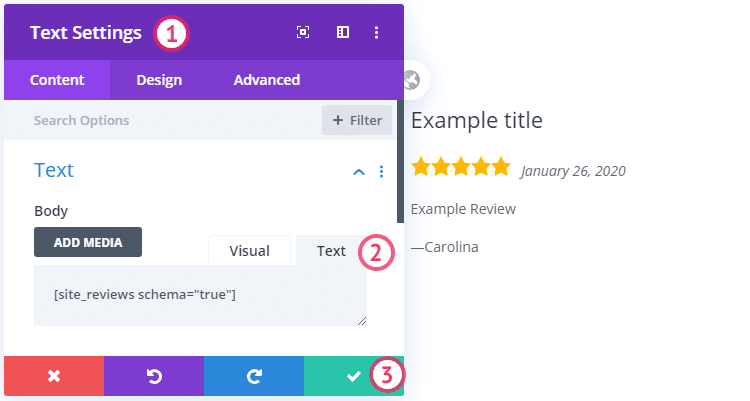 Easy Testimonials​ ​- With this free plugin, you can manually add testimonials in your WordPress admin area. To collect testimonials from users, you need to buy the premium version.
Once you have created testimonials, you need to use the plugin's shortcode generator. The shortcode generator lets you choose how to display the testimonials on your post or page.
Open the Shortcode Generator from the Easy Testimonial Settings menu. Here you can choose the number of testimonials you want to show. Select whether to show titles, star ratings and images. You can display the testimonials in lists, in a grid system, or as a slider (cycle).
In the settings, make sure that "Output Review Markup" is checked. This is the code that will help Google find your testimonials.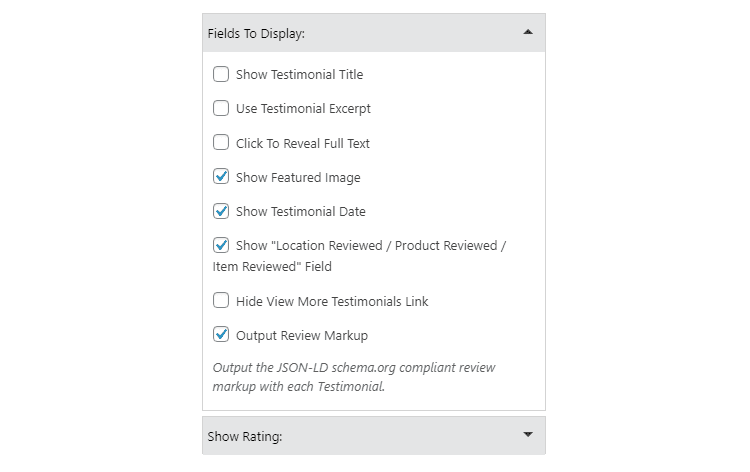 Copy the shortcode, and add a new Divi Code/Text module (1) where you want the testimonial to show. Paste the shortcode in the text area (2) and save (3). You can now see the preview of your testimonial in the editor.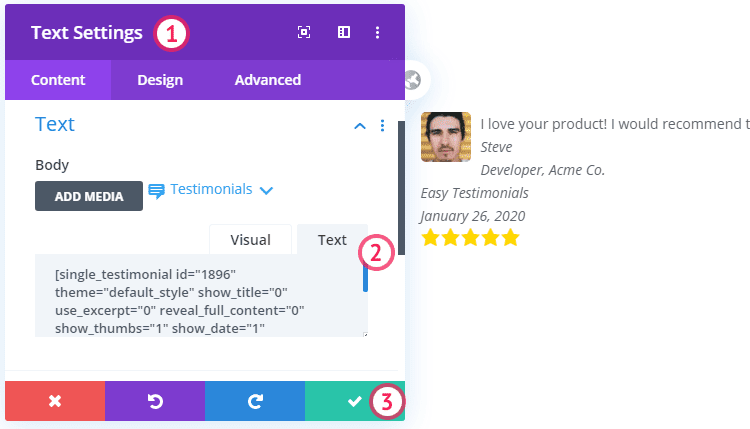 Showing WooCommerce product reviews in Google Search results
If you own a WooCommerce shop, you can use this free plugin to automatically add the necessary codes. No setup is needed, just install and activate the plugin.
How to show reviews from Google My Business
If you have registered your business with Google My Business you can collect reviews via Google.
Google Reviews Widget – This free plugin displays the five most helpful reviews from Google.
First you need a Google project API-key and a Google Place ID. The plugin has a helpful guide and a video that describes how to create and find the keys.
To generate your shortcode, open the Shortcode tab in the plugin settings (1). Enter the Google Place ID for your business (2). Connect Google (3):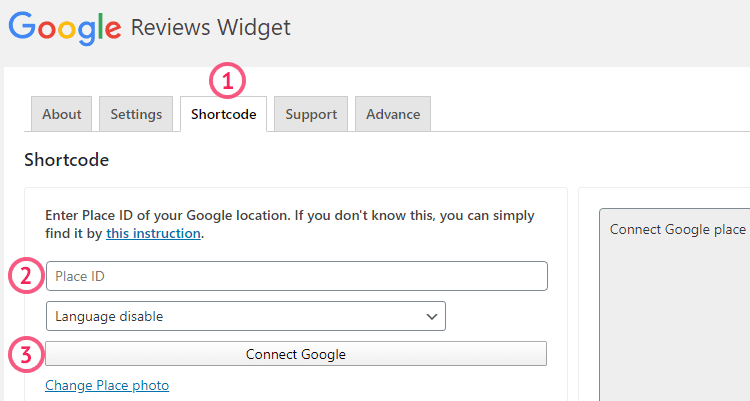 You can also add a title and change the size of the widget before copying the custom shortcode.
Add a new Divi Code/Text module where you want your Google reviews to show (1). Add the shortcode (2) and save (3). This is how the preview looks like in the editor: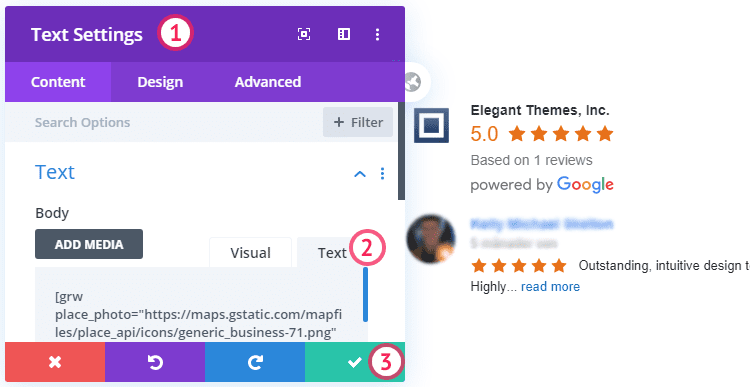 Summary
When compiling this list of plugin alternatives for the Divi Testimonial module, our main criteria for selection were:
The plugin must be compatible with Divi
The plugin must be free
Allow both text and image content as well as star ratings
Include the review schema
Unfortunately some plugins that we tested did not have all these features, including: Jetpack, Testimonials Widget, Testimonial Rotator, and WP Product Review Lite.
We also learnt that it is best to only use one plugin to add schemas. If you use more than one schema per page, it can cause the rich snippet to not show up in the search results.
If you would like to collect reviews on your website, the recommendation is to use Site Reviews. If you want to add testimonials manually, use Easy Testimonials.
The best PAID plugin in this area according to our research is Testimonials Pro by BNE Creative. It's a very affordable plugin that provide more or less the same features as other paid solutions that you have to renew annually.
Collecting reviews via Google is great because it makes your business more visible. But showing the reviews on your own website proved to be unnecessarily difficult. Google needs to come up with a better and easier tool for sharing the reviews.
If you have found a better way to add Google reviews to your website, please let us know in a comment.
NEXT: Practical Divi Theme Accessibility Tips >
We'd love to have a discussion with you regarding this topic! If you have anything more to add to this article, Simply leave them as comments below…