Divi Builder is a powerful page builder solution that has completely changed how we design and create WordPress websites today; with its popularity comes many misconceptions about the product and its components. One such question that may arise in people's minds is if the Divi builder can be used without the Divi theme.
The Divi Builder plugin is built to work with any modern WordPress theme, without any extra configurations. This article will break down and answer most questions about using the Divi builder without the Divi theme. We also suggest some of the best lightweight & bloat free theme options you can try Divi Builder on.
Cross-Site Content Copy Paste System for Divi, Gutenberg and Woo
Can you use just the Divi Builder without the Divi theme?
You can use the Divi Builder plugin without the Divi theme; in fact, it is built to work with any modern WordPress theme irrespective of its developer. You can even use the Divi Builder plugin with any version of WordPress default theme; it works flawlessly. The Divi theme, though, is optimised for the Divi builder features (with compatibility and good performance assured) and allows you to have granular control over every section of your site.
If you are a fan of Divi theme but would like to try other popular theme options in the market, then Divi builder plugin is the solution that allow you to keep those layouts as it is when transitioning to a new theme. Unlike the Divi theme, the Divi builder is portable and can be installed in any website. After installing this plugin you can use handy features like import/export options to have same layouts in your website that's not running on Divi theme as the base.
What is the Visual builder / Page Builder?
A page builder or visual builder is a utility (or plugin in WordPress) that allows a web developer to visually build a page using block-like component structures (widgets, modules or elements). It uses drag n drop technology and inline editing to create web pages as quickly as drawing them.
Page Builders do have a learning curve, but they help you design and develop websites faster and without the need for any programming knowledge. An example of an excellent page builder is the Divi Builder, a WordPress plugin that allows granular design implementation without any constraints. Even a complete beginner can create professional websites (with the help of already made templates) without any previous experience.
To put it short, Page Builders are the new norm for creating web pages online today.
Who is the Divi builder plugin for?
The Divi builder plugin is for any WordPress user who needs a simple to use but powerful page builder for creating and maintaining pages on their website. The difference between the Divi builder and other page builder plugins is the learning curve and the number of resources available online.
The Divi Builder plugin is straightforward to get started with; the more you use the plugin, the more you will master how to create more complex designs. They have a youtube channel filled with tons of tutorials that teach you how to create anything with Divi (with lots of animations and transition tutorials to make your designs stand out).
If you're a small business owner who wants to set up a website that you can maintain and modify without the cost of hiring a Web developer, then the Divi builder is for you.
How much does Divi Builder cost?
To get access to the Divi builder plugin, you'd need an Elegant Themes club subscription which costs $89 per year or a one-time fee of $249. Once you're part of their membership, you gain access to more than 80 themes (including the Divi Theme), the Divi Builder plugin, and other premium plugins they have released over the years.
So the cost of the Divi Builder depends on how long you're planning on using it; a one-year subscription might be enough if you're just testing things out and the lifetime membership if you plan on using Divi builder long term.
How to install Divi builder?
You install Divi builder just like you install any other plugin outside the WordPress repo. After you get the Elegant Themes subscription, you simply download the plugin (it's always in zip format) and upload it to your WordPress site.
Here's a step by step guide on how you can install the Divi Builder plugin:
Step 1: Navigate to the Plugins Tab and Select Add New.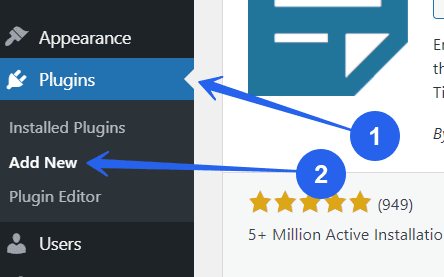 Step 2: Click on the Upload button and Select the Divi Builder Zip File from your computer, then click Install.
Step 3: Click the Activate button to Activate Divi Builder on your site.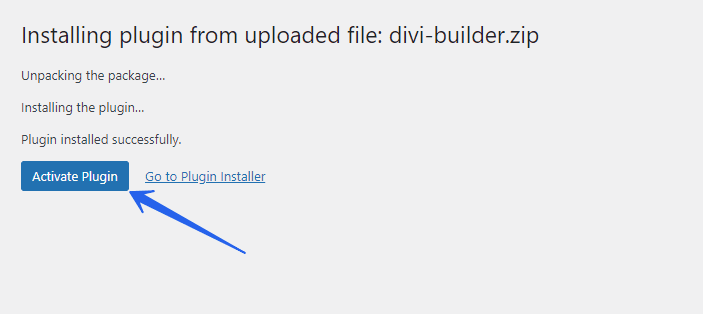 Once you activate the plugin, it should be ready for use on your pages.
1. Can you use Divi builder with the Astra theme?
You can use the Divi theme with any modern theme, and Astra theme is no exception.

Astra is one of the best themes you can use with Divi Builder as it is built to be lightweight and flexible. It has a built-in header builder feature which allows you to design any kind of header layout you want.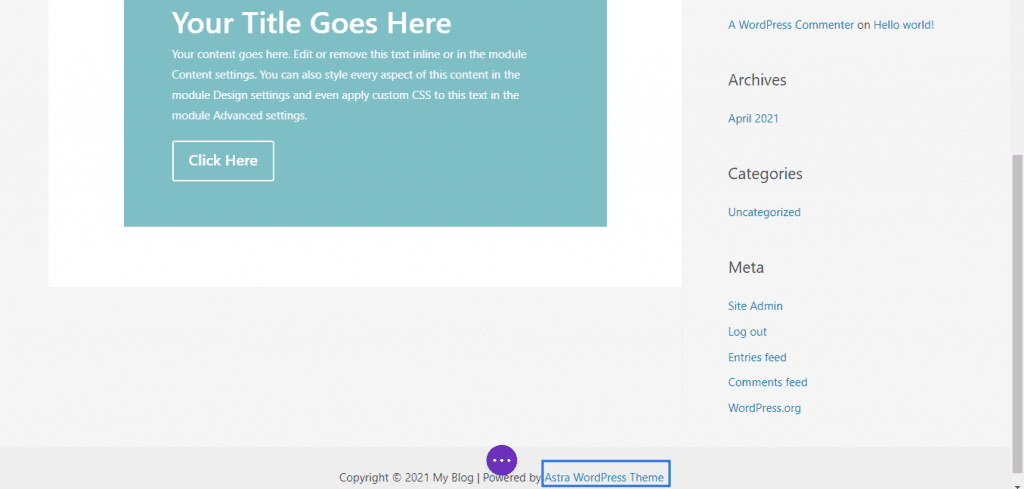 Does using the Divi builder on Astra slow down the site?
Divi Builder is a page builder plugin that works with most modern WordPress themes; Astra is one of the best at that. Using Divi Builder on the Astra theme does not slow down a site and, in many cases, is a good combination.
Most page builder plugin developers recommend Astra due to its lightweightness and strong compatibility with page builder plugins.
Just so you can see for yourself, we carried out a couple of tests using the Divi builder on Astra theme. We measured loading speed and page optimisation scores with GTmetrix and Google PageSpeed Insight.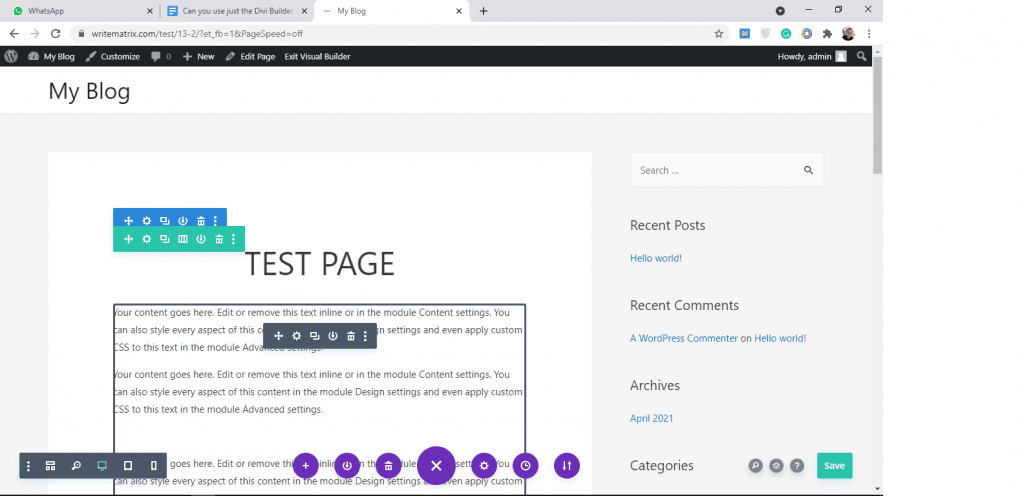 We designed this simple page using Divi Builder on Astra theme, the page consisted of a few paragraphs of text and an image just to make it more realistic. It consisted of only the header, footer, and default theme widgets. This is how the live page shows as: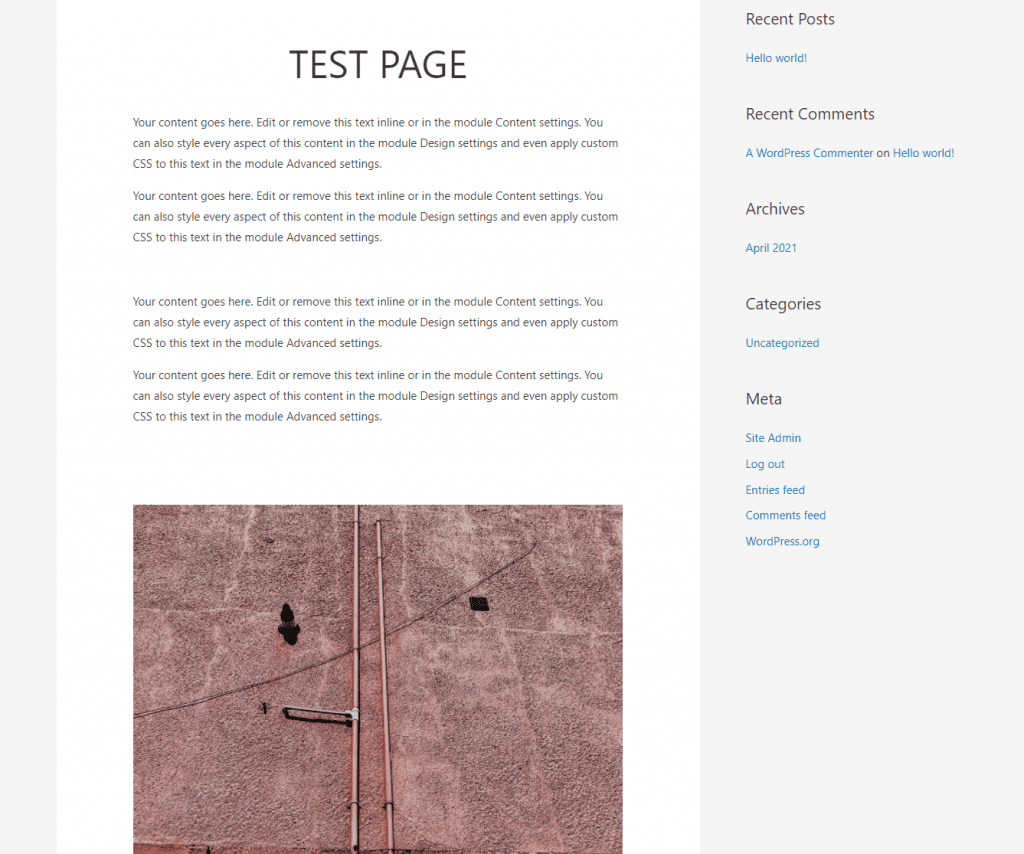 When we ran this page URL on GTmetrix, we got the following results: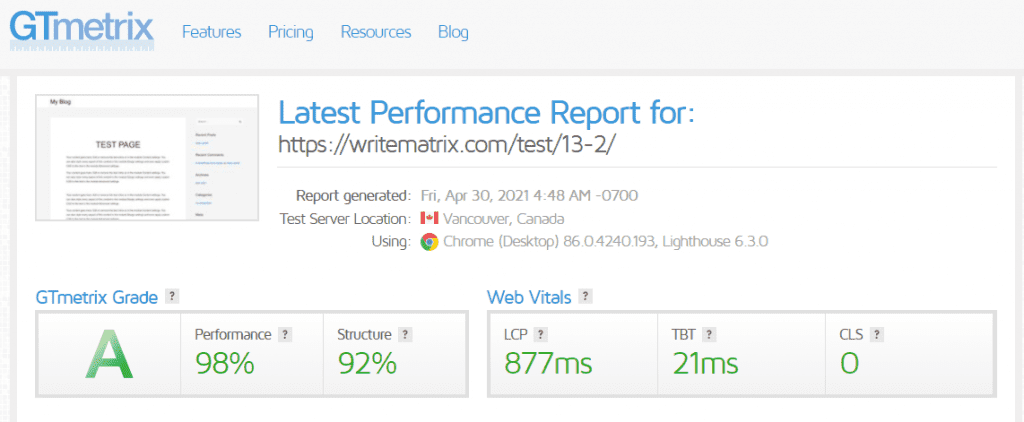 As you can see from the GTmetrix result, the page returned with an A grade, proving that Astra is an excellent match for the Divi Builder Plugin.
To make sure, we also ran the test on Google PageSpeed Insight tool and got the following results: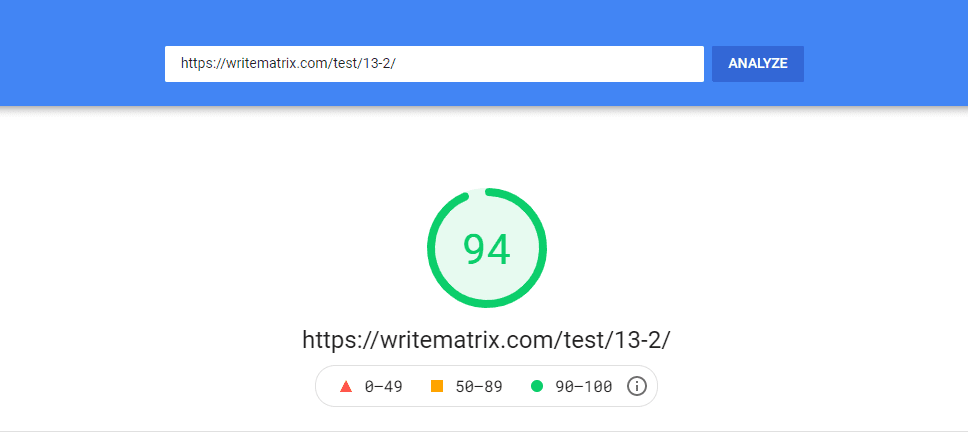 The Mobile page speed result for the same page was even better than that of the PC, which shows that the Divi builder paired with a modern theme like Astra is also mobile optimised.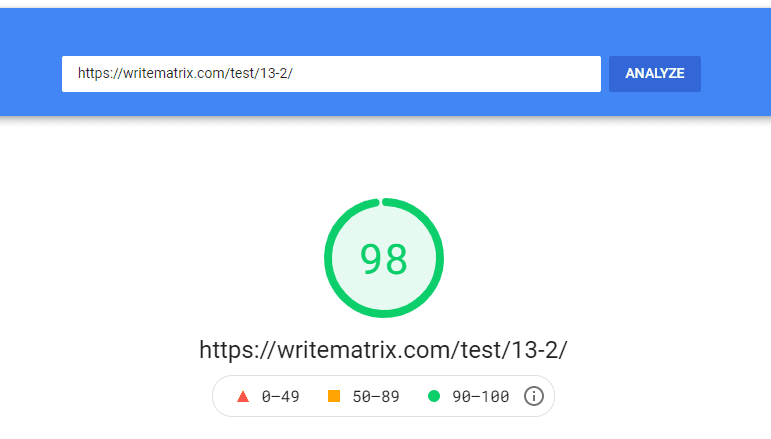 We also duplicated the simple page using the Elementor Page Builder plugin just to see how it would perform compared to the Divi builder version; here is a screenshot of the Elementor page running on Astra Theme.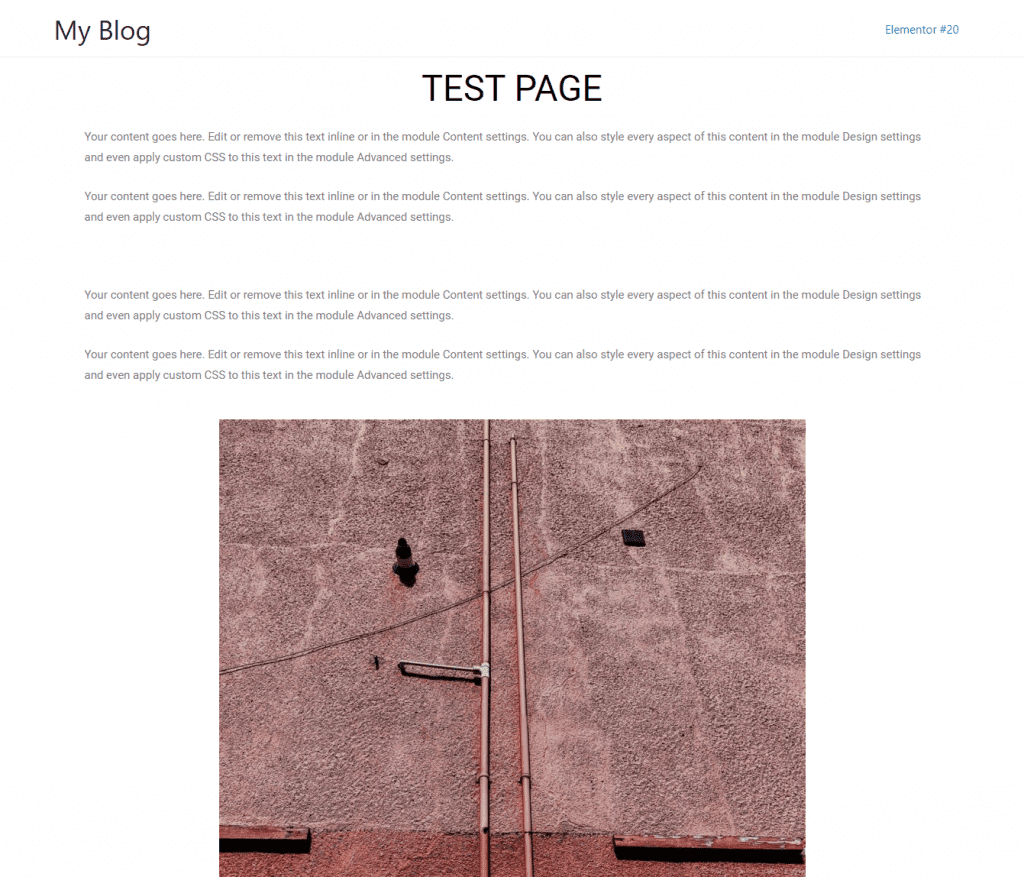 When tested with GTmetrix, we got the following result. As you can see, the results are similar to that of the Divi builder version of this page (with the Divi builder being slightly better in performance).
Google PageSpeed Insights also returned an impressive result of 90 (again, the Divi Builder version outperformed with this same content).

For the mobile test, the Elementor version of the page performed poorly compared to the Divi builder version.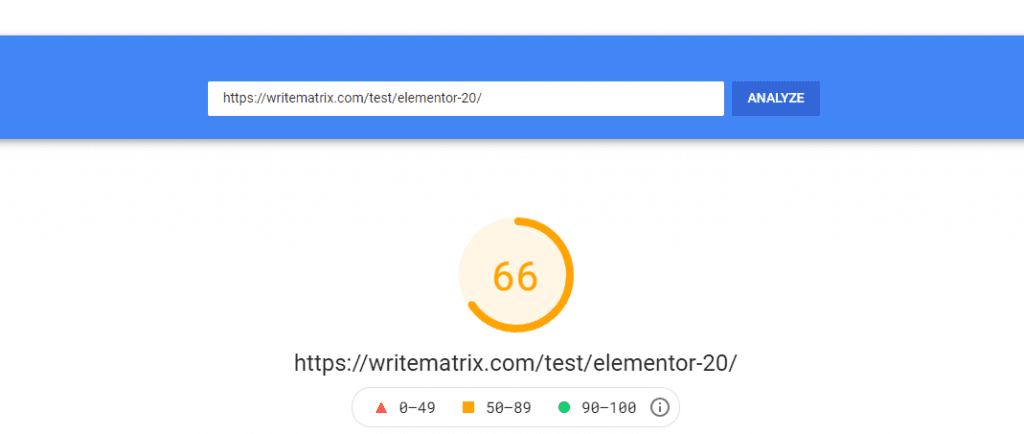 This just goes to show that a lot of work was put into the Divi builder when it comes to mobile. Yes, with a few tweaks here and there on Elementor, you could improve the performance, but that's not ideal, especially when there are other products like Divi that perform well out the box.
One thing to note here is the fact we used Astra, a third-party theme for these tests, not the Divi theme. Using the Divi Builder plugin with the Divi theme will likely result in better performance due to strong compatibility.
Note: These tests were done on a shared server so that these performances may differ for dedicated VPS or private servers. Also, We did not enable any third party optimisation or caching plugin.
Does Divi Builder work with the Astra LearnDash starter site?
Astra offers Starter site templates for the Learndash LMS plugin (LMS – Learning Management System), which allows you to get started quickly when creating LMS websites. Astra LearnDash Starter sites are built using Elementor and can not work with the Divi Builder; once imported, the LearnDash can only be edited using Elementor.
You can create additional pages using the Divi Builder, though, as Elementor and Divi do not conflict. Please note that it is not recommended to have 2 page builder plugins active in a single WordPress installation.
How does Divi Builder will perform when used with other popular themes in the WordPress repo?
Using the same sample page, we decided to test how Divi Builder will perform with some of the most used themes in the WordPress repository.
Below, you will find the results from our analysis for each theme we tested.
2. Divi Builder on Kadence Theme
After installing and activating Kadence theme, this is how our Divi builder made sample page looked,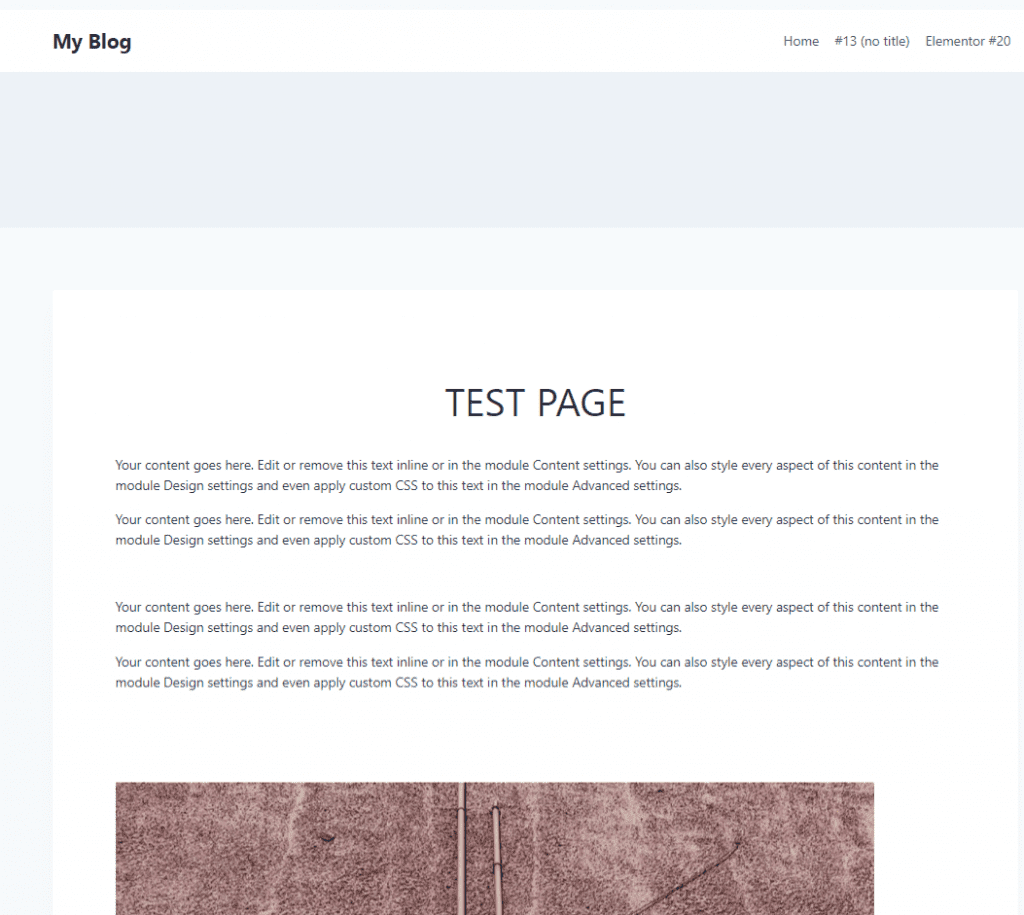 The same simple page layout we saw in Astra but without the sidebar and theme-specific widgets.
We ran a performance test on GTmetrix and got the following results:

The page was graded with an A and a 98/100 for performance, really impressive for a Divi builder compatible theme.
3. Divi Builder on Generatepress Theme
Next, we ran the same analysis on the GeneratePress WordPress theme; after installing and activating the theme, WordPress rendered the sample page like this.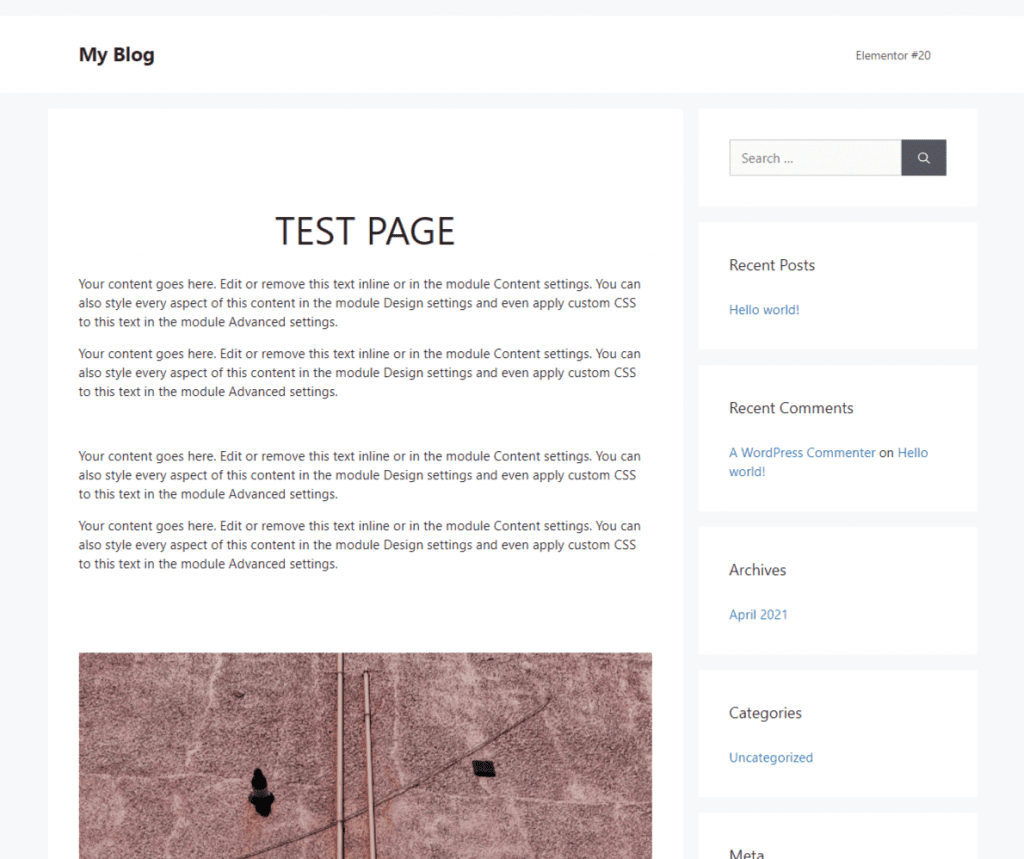 and we got GTmetrix scores as follows,

4. Divi Builder on Hello Elementor Theme
The Hello Elementor Theme is a popular theme and its mainly designed to be used with Elementor page builder. It has very minimum feature set and can be described as a barebone theme to create page builder layouts.
After installing the theme, the is how WordPress rendered the sample page,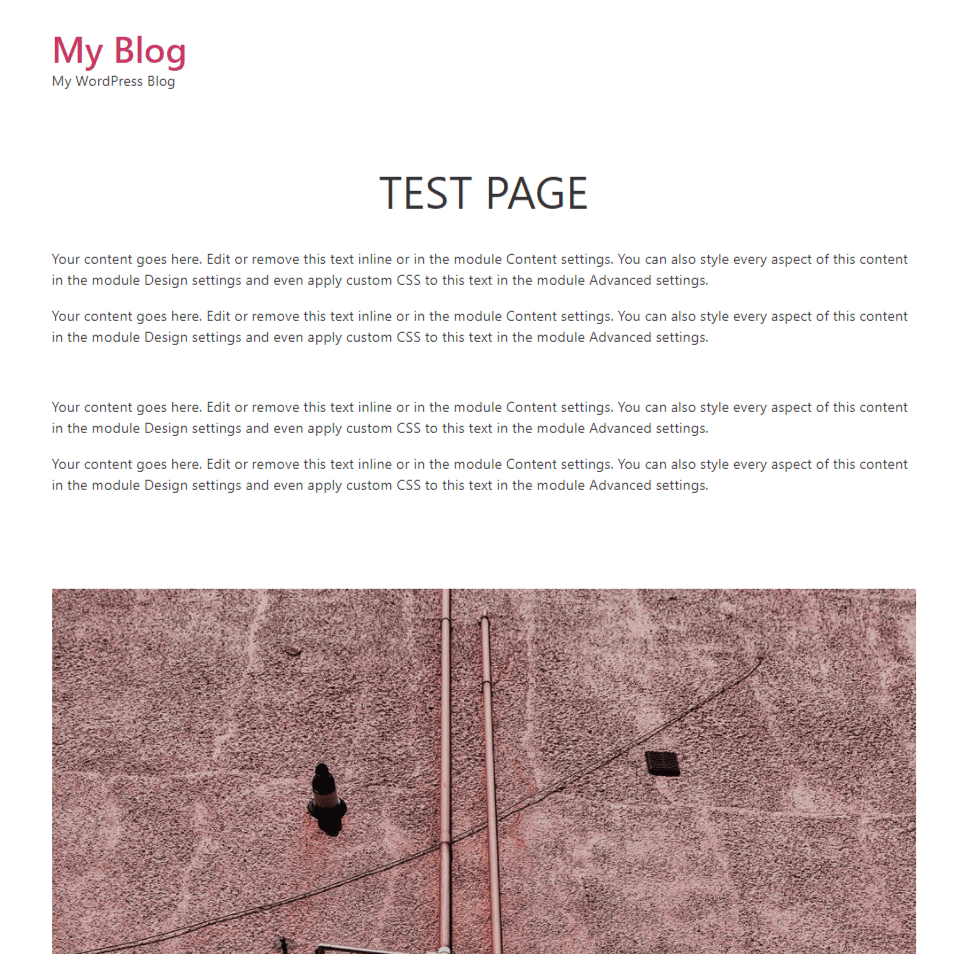 GTmetrix stats are follows,

5. Divi Builder on Neve Theme
Last on the list of themes we tested with the Divi Builder was the Neve Theme, a popular choice for lightweight WordPress theme.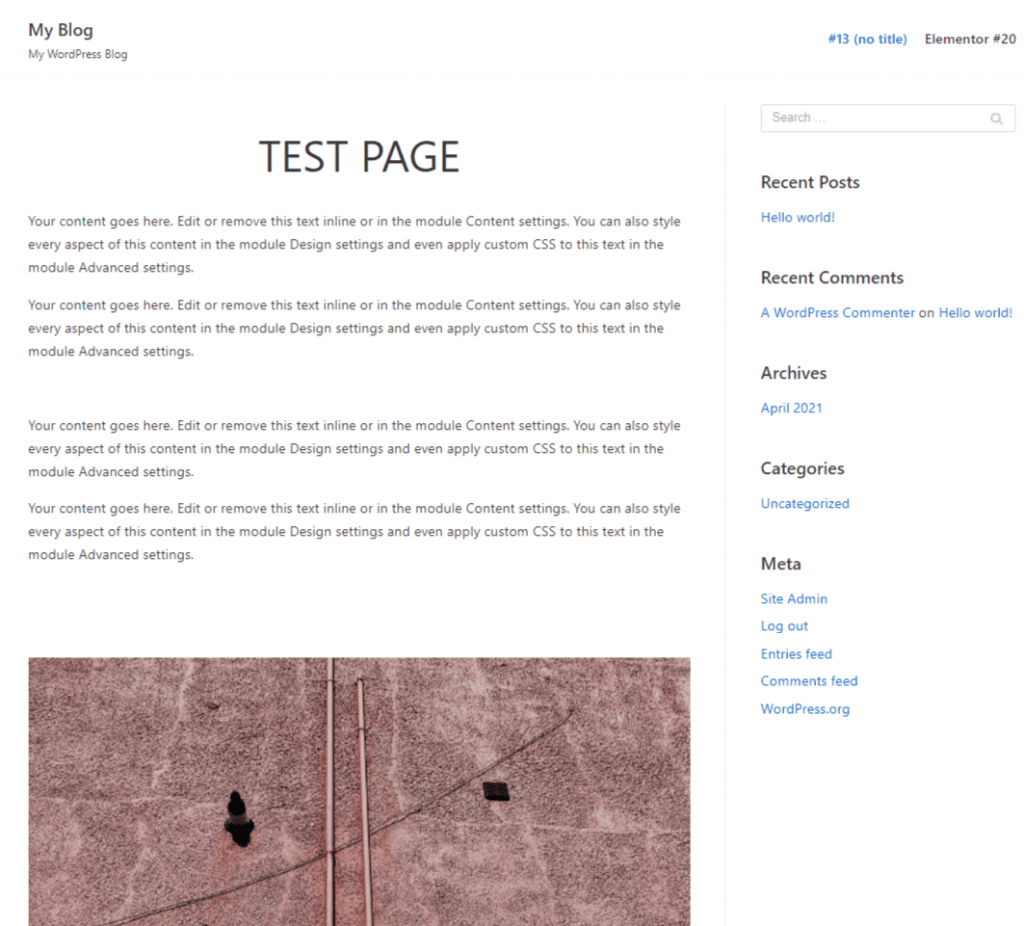 When we ran the page through GTmetrix, We got the following results,

Best Third-Party Themes that can be used with the Divi Builder Plugin
So base on the performance scores we obtained, what would be the best third-party theme to pair up with the Divi Builder plugin? Here's the summary of all the results we got from running GTmetrix and Google Pagespeed performance tests for these different themes.
| | | | | |
| --- | --- | --- | --- | --- |
| Theme | GTmetrix Grade | GTmetrix Performance Score | Google Pagespeed Insight Score (Desktop) | Google Pagespeed Insight Score (Mobile) |
| Astra | A | 98 | 94 | 98 |
| Kadence | A | 98 | 99 | 91 |
| GeneratePress | A | 98 | 98 | 96 |
| Hello Elementor | A | 97 | 89 | 92 |
| Neve | A | 99 | 96 | 95 |
The performance difference between each of these themes isn't colossal, so that it would not make much of a difference. But, again, these results were derived with the default Divi builder page optimisation (No caching or performance plugin), which means you can improve them with a few tweaks.
Not disputing this as a fact, the Neve themes did outperform the rest of the other themes according to its GTmetrix performance grade and score.
Generate Press performed the best while testing these themes with the Divi builder on the Google PageSpeed Insights tool.
So it's up to you to decide which of these you chose to pair up with the Divi builder, but for the most part, they are all excellent WordPress themes.
Conclusion
In this article, we have discussed the Divi Builder and its usability without the Divi theme. We did experiments with several third-party theme to see how good the Divi builder performs without the Divi theme.
We hope you've found this article helpful. Leave your feedback on the comments section below.
NEXT: If Divi was Free, Can it Pass Official WP Theme Review Standards?